First Time in English!
Coming February 12, 2019
"Never has such a righteous hatred flamed over all that's bad and evil
as over the Dark Young Man, who, with his intrigues, annihilated
a family of blameless souls." —I. L. Peretz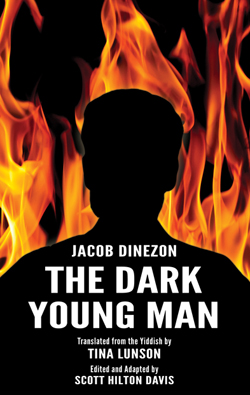 By Jacob Dinezon
Translated from the Yiddish by Tina Lunson
Edited and Adapted by Scott Hilton Davis
Published by Jewish Storyteller Press
Raleigh, North Carolina, U.S.A.
ISBN 978-0-9798156-3-8
"Virtuous heroes and heroines, a delicious villain, and a web of
melodramatic intrigue in a Jewish novel that remains historically
important today." —Ellyn Bache, author of The Art of Saying Goodbye
Infusing European literary realism into a Russian-Jewish love story, Jacob Dinezon's The Dark Young Man relates the efforts of a ruthless husband determined to preserve his authority over his wife's family by destroying the reputation of her younger sister's prospective bridegroom. Shady matchmakers and criminal intrigues conspire to keep the young lovers apart. The novel evokes themes familiar to readers of Dinezon's more famous colleagues and friends Sholem Aleichem and I. L. Peretz: disparities between rich and poor, the impact of modernity on religious traditions, and the challenges of assimilation on Jewish identity.
Suspenseful and bittersweet, The Dark Young Man offers those new to Dinezon's work an excellent introduction. For readers already aware of Dinezon's significance to the Jewish literary canon, the availability of this novel in English provides a meaningful and timely offering.
A tale of suspense, betrayal, love, and death, Dinezon's The Dark Young Man is a startling fictional account of mid-nineteenth century Jewish life, culture, and religion by a beloved author and masterful storyteller.
About the Author
Jacob Dinezon (1851?-1919) was a beloved and successful 19th-century Jewish novelist who wrote poignant stories about Eastern European urban and shtetl life. Called the "Father of the Jewish Realistic Romance," Dinezon focused on the emotional conflicts affecting young people as the modern ideas of the Jewish Enlightenment challenged traditional religious practices and social norms. Frequently, the plight of his characters brought tears to the eyes of his devoted readers.
Learn more about Jacob Dinezon at www.jacobdinezon.com
About the Translator
Tina Lunson is the former administrative director and senior consultant to the Vilnius Program in Yiddish Language and Literature at Vilnius University in Lithuania. She worked with the U.S. Holocaust Memorial Museum as an expert researcher and translator, and served as a historical consultant and on-site guide for two Holocaust-era films in Lithuania. Lunson received her Master of Arts in Jewish History from Baltimore Hebrew University and has completed post-graduate work at Columbia University in Yiddish Literature. Her English translations of Yiddish works include Jacob Dinezon's Memories and Scenes: Shtetl, Childhood, Writers and The Dark Young Man, Holocaust memorial books, and commissioned translations of personal correspondence and diaries.
About the Editor
Scott Hilton Davis is an Emmy Award-winning filmmaker, author, storyteller, and collector of Jewish short stories from turn of the twentieth-century Eastern Europe. For the past several years, Scott has been working to bring English translations of the Yiddish works of Jacob Dinezon to twenty-first-century readers. He is the author of Souls Are Flying! A Celebration of Jewish Stories and Chanukah Tales from Oykvetchnik.
Coming in 2019.