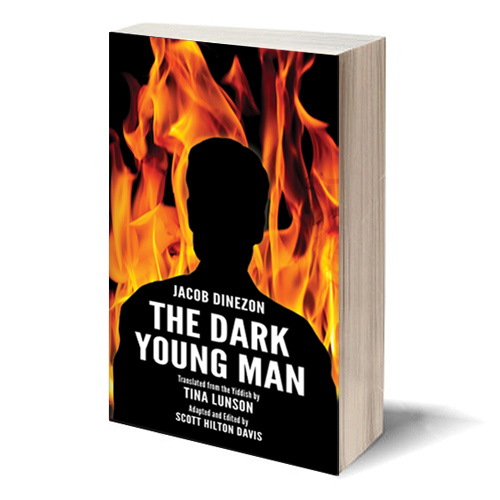 "If you've studied or read modern Yiddish literature, chances are you've heard the name Yankev (Jacob) Dinezon. He was friend, confidante, and majordomo to some of the giants of modern Yiddish literature, including Sholem Aleichem, S. Ansky, and I.L. Peretz. In fact, Dinezon is buried in a magnificent ohel (mausoleum) in Warsaw, alongside his friends Ansky and Peretz. If modern Yiddish literature struggled to work out what Jewish romance might look like, it was the real-life bromance between Peretz and Dinezon that lay at its foundation.
"Though Dinezon is there in all the literary histories, his actual work is almost nowhere today, and certainly not in English translation. A new set of English translations of Dinezon's work from Jewish Storyteller Press aims to change that, bringing his name back to Jewish readers in 2019, his 100th yortsayt." (Read Review by Rohkl Kafrissen)
"BOSTON (JTA) — Hot off the Jewish press in Vilna in 1877, a dramatic Yiddish romance novel became a surprising success, selling out its first 10,000 copies in Jewish communities across Poland and Russia. It's not hard to see why.
"Set in the mid-19th century in the outskirts of the Russian city of Mohilev, Yankev (Jacob) Dinezon's "The Dark Young Man" had it all: a page-turning, ill-fated modern love story thwarted at every turn by a villainous and sinister in-law; dramatic storytelling that exposed the divide between rich and poor; and the clash of modernity against tradition. Spoiler alert: no happy ending." (Read Review by Penny Schwartz)
"Tina Lunson's excellent English translation (the first ever) vividly captures mid-nineteenth century Jewish life in Eastern Europe, revealing not only its particular culture but also its parallels to today's Jewish experience. . . . Dinezon's themes and insights not only bring a complex era to life; they are also surprisingly relevant to our own time, especially in terms of the ongoing quest for female autonomy." (Read Review by Philip K. Jason)
"Dinezon's writing is poignant and haunting; his characters are bright, intense, and unforgettable. . . . Jacob Dinezon is truly a giant in Yiddish literature." (Read Review by Charles S. Weinblatt)
"While the Yiddish and Hebrew words and names can be a challenge for an English-only reader like myself, Scott Davis has done a remarkable job of keeping this book current to its original time frame and culture, while—as Ezra Pound was fond of saying—at the same time making it modern. It rolls along like a Stephen King novel with the dark flares of Cormac McCarthy." (Read Review by Thomas Crowe)
"Dinezon is a natural story-teller, maintaining humor and suspense throughout the book. His diverse cast of characters, while sometimes veering towards the predictable, jump off the page with a vibrant humanity. . . . Readers who enjoy a good story with a strong plot and well-developed characters will find much to appreciate in The Dark Young Man." (Read Review by Rabbi Deborah Miller)
"I usually don't read fiction, but when I was offered the chance of reviewing a new English translation of Jacob Dinezon's Yiddish classic, 'The Dark Young Man', I decided to say yes. Strange to say, the Yiddish classics of 150 years ago, which often describe the tug-of-war that occurred in the Jewish community of then, between material matters and spiritual ones, often reflect many of the issues that so many of us religious Jews today still struggle with. I also like history, and I knew that this novel—which sold 200,000 copies in the original Yiddish—would faithfully depict what Jewish life was really like in the late 1800s, without rose-tinted glasses or other distortions that can occur with the passage of time. And I wasn't disappointed." (Read Review by Rivka Levy)
"The essential conflict at the center of Jacob Dinezon's novel is an almost archetypal one: a pair of star-crossed lovers and a malicious figure, close to both, who devotes himself to the utter destruction of any happiness they might have. That in combination with Dinezon's passionate feelings about religious hypocrisy and the flaws of arranged marriages makes for a fine blend of philosophy and melodrama." (Read Review by Tobias Carroll)
"Thanks to the selfless dedication and strongly focused work of Scott Davis, Jacob Dinezon . . . will soon become a canon status Yiddish writer." (Read Review by Mel Ulm)
"Jacob Dinezon's novel, 'The Dark Young Man,' is now available in English. Mikhail Krutikov explains how this soap opera-style bestseller in 1877 isn't much different from today's Jewish literature." (Read Review in Yiddish by Mikhail Krutikov)
Book Q&As with Deborah Kalb. "This is not a shtetl story. It doesn't take place in a little village. This is about young Jews—17 to 21—living in the city of Mohilev in the Russian Empire. We get a realistic depiction of Jewish urban life in the 1840s. We see what young people were struggling with in terms of arranged marriages, assimilation, and the impact of modernity on traditional Jewish life." (Read Interview by Deborah Kalb)
Writers in the Trenches: Scott Hilton Davis brings Yiddish Stories to an American Audience. "The English translations we've published are well-written, compelling stories that vividly depict Jewish life in the Russian Empire in the 1800s. Like other social reformers, Dinezon held up a mirror and showed his readers both the bright side—love, hope, aspirations for a better world—and the dark side—persecution, poverty, violence, death. He didn't pull any punches. We see in his novels what life was really like for our grandparents and great-grandparents who were living in urban communities and not in shtetls. There's no nostalgia in Dinezon's writing; no longing for the good old days. So in addition to being fascinating Jewish literature, these works are important historical documents." (Read Interview by Faye Rapoport DesPres)
Radio host Rabbi Sam Cohon talks with Scott H. Davis, publisher of Jewish Storyteller Press, about reviving Yiddish authors in translation, including the first-ever release of Jacob Dinezon's 19th-century novel, The Dark Young Man.
Listen to the full program here.
Linda Jiménez, host of Radio Sefarad's "English Corner," talks with publisher Scott Hilton Davis about the release of the first English translation of Jacob Dinezon's bestselling Yiddish novel, The Dark Young Man, and the celebration of Dinezon's 100th yortsayt at the Jewish cemetery of Warsaw in August 2019.
Listen to the full program here.