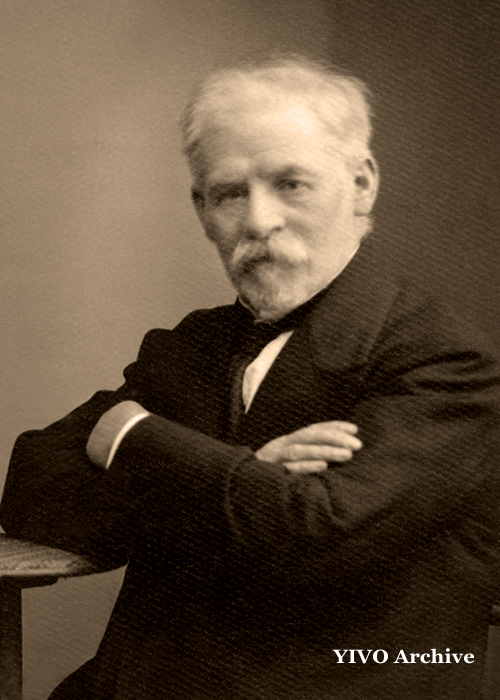 Jacob Dinezon was born in Lithuania in the early 1850s. As a young teenager, his father died and he was sent to live with an uncle in the Russian town of Mogilev.
Hired by a wealthy family to tutor their young daughter, Dinezon became a trusted member of the family. He was promoted to bookkeeper, and, ultimately, manager of the family business. Through this family, Dinezon was introduced to the owner of a famous Jewish publishing company in Vilna called The Widow and Brothers Romm, which published his first novel in 1877. The book, The Dark Young Man, became a runaway bestseller.
Moving to Warsaw in the 1890s, Dinezon quickly became a prominent figure in the city's Jewish literary circle. He befriended and mentored almost every major Jewish writer of his day, including Sholem Abramovitsh, Sholem Aleichem, and I. L. Peretz, who became Dinezon's best friend.
During World War I, Jacob Dinezon helped found an orphanage to care for the Jewish children made homeless by the fighting between Russia and Germany. He died in 1919 and is buried in Warsaw's Jewish cemetery beside I. L. Peretz. (More at www.jacobdinezon.com)
Sholem Abramovitsh was already an established Hebrew writer when he turned to writing stories in Yiddish under the pen name Mendele Moykher Sforim, Mendele the Bookseller.
Born into a poor family in Lithuania in 1836, Abramovitsh's life became even more difficult when his father died and he was forced to join a band of wandering beggars to make a living. He finally settled in the town of Kamenets-Podolski, where he married and became a teacher.
In 1858, Abramovitsh moved to Berdichev, where he began to write in earnest, producing several satirical novels and plays in Hebrew and Yiddish. But when members of the community became offended by his writings—his satires having hit too close to home—he was forced to move his family to Zhitomir, where he continued to teach and write. In 1881, Abramovitsh became the headmaster of the Talmud-Torah, the traditional Jewish school, in Odessa, where he spent the rest of his life. He died in 1917 at the age of eighty-one.
In his Yiddish writings, Abramovitsh chastised the rich and powerful and championed the poor and downtrodden. Always a teacher at heart, he wrote in Yiddish to uplift and advance the Jewish masses. Yet, he was also a consummate writer, acknowledged even in his own day for elevating Yiddish to a literary language. It was Sholem Aleichem who dubbed Abramovitsh "the zayde," the grandfather, of modern Yiddish literature for being the first to create literary works of real merit in Yiddish.
Y. L. Peretz or I. L. Peretz was born in Poland in 1851. He was a very precocious young student in the Orthodox tradition, until one day as a teenager, he was given the key to a secret library of "worldly books"—books written in German, French, and Russian about science, geography, mathematics, and world history. These books opened his eyes to a whole new world of modern ideas.
In his early thirties, Peretz became an attorney and practiced law for ten years until suddenly—for reasons he was never able to find out—he was disbarred by the Czarist authorities. No longer able to practice law, he moved his family to Warsaw where he took a job with the Jewish Community Council as the chief administrator of the Cemetery Division.
Peretz's first book of Yiddish stories was published in 1890 by Jacob Dinezon, and he would go on to write hundreds of Yiddish poems, plays, essays, and short stories, and to edit several Jewish publications. By the time he died in 1915, I. L. Peretz was Eastern Europe's leading Jewish literary figure.
Sholem Aleichem was the pen name of the Jewish writer Solomon Rabinovitz who is best known for his Tevye stories which were turned into Fiddler on the Roof.
Sholem Aleichem was born in Russia in 1859. Before becoming a writer, he taught Hebrew and Russian and even served for a short time as a government Rabbi. He married into a wealthy family, and when his father-in-law died, because of Russian law, Sholem Aleichem inherited the man's fortune. With part of the money, he started a literary journal called The Jewish Folk Library, which he published in Yiddish.
Unfortunately, Sholem Aleichem's inheritance was lost in a Russian stock market crash, and he spent the rest of his life struggling to make a living. But Sholem Aleichem was a very prolific writer of plays, short stories, and novels, and by the turn of the 20th century, he had become well known as a Jewish humorist—a Jewish Mark Twain.
With the outbreak of World War I, Sholem Aleichem and his family moved to New York City, where he died in 1916.
Scott Hilton Davis is an Emmy Award-winning filmmaker, author, storyteller, and publisher. He is the author of two short story collections, Souls Are Flying! A Celebration of Jewish Stories and Chanukah Tales from Oykvetchnik.
In 2007, Scott founded Jewish Storyteller Press to bring the works of 19th-century Jewish writers to 21st-century readers. Since that time, he has been working to return the forgotten 19th-century Yiddish writer Jacob Dinezon to his rightful place in Jewish literature. In 2019, Scott's press published the first English translation of Dinezon's bestselling romance novel The Dark Young Man in commemoration of the beloved author's 100th yortsayt (the 100th anniversary of his death).