"Dinezon's nov­el is a delight­ful and poignant read." —⁠Adina Applebaum, The Jewish Book Council (Read Review)
"Dinezon's tales are remarkable for their veracity and drama. He makes daily life in the shtetl feel tangible, and his characters express remarkably vivid emotional clarity. . . .  One certainly need not be Jewish to enjoy Jacob Dinezon's stories." —⁠Charles S. Weinblatt, New York Journal of Books (Read Review)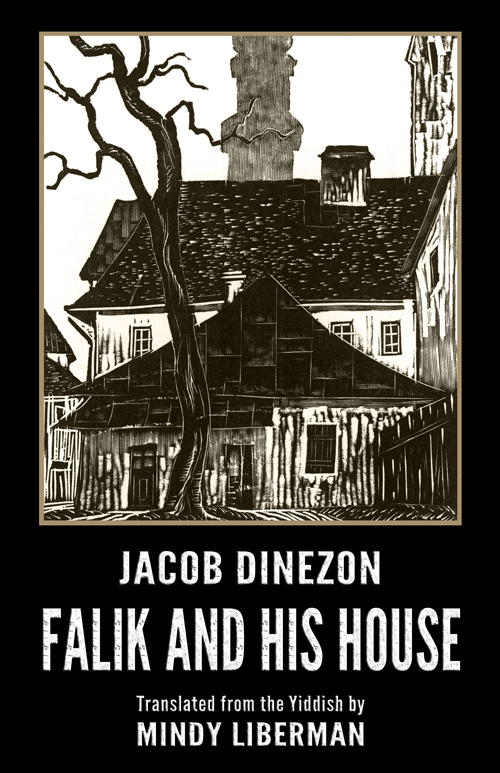 Published by Jewish Storyteller Press, 2021
Raleigh, North Carolina, U.S.A.
ISBN 978-0-9975334-2-2
$9.95
Falik the Tailor has fallen on hard times. His house, which he talks to like a brother, was once young and sturdy. Now in old age, it leans precariously, and the roof is leaking so badly it threatens to drown Falik, his wife, and their quarrelsome tenants.
To make matters worse, the richest man in town has purchased the property next door and is building a grand mansion that is blocking Falik's light. Now, his greedy new neighbor has turned his eye on Falik's house and has offered a significant sum to take it off his hands.
When Falik writes to his sons in America for financial help, they refuse and encourage him to take the rich man's offer and come live with them in their new home.
What will Falik do? Sell and sail away to America or stay and save his beloved house by binding himself to the town's unscrupulous loan shark?
Originally written in Yiddish in 1904 and translated for the first time into English by Mindy Liberman, Jacob Dinezon's Falik and His House offers a masterful tale of one man's stubborn determination to preserve his Jewish way of life in the Russian Empire at the turn of the twentieth century. A poignant, humorous, and life-affirming story of loyalty, love, and faith.
About the Author
Jacob Dinezon (1851-1919) was a popular and successful 19th-century Jewish novelist who wrote poignant stories about Eastern European urban and shtetl life. Credited with writing the first bestselling novel in Yiddish, Dinezon focused on the emotional conflicts affecting Jews of all ages as modern ideas challenged traditional religious practices and social norms. Frequently, the plight of his characters brought tears to the eyes of his devoted readers.
Learn more about Jacob Dinezon at www.jacobdinezon.com
Mindy Liberman studied Yiddish at McGill University. She has translated poetry by Miriam Ulinover and letters by Sholem Aleichem. Her work has been published in In geveb: A Journal of Yiddish Studies and on the Jacob Dinezon website. She is a retired librarian living in Los Angeles.