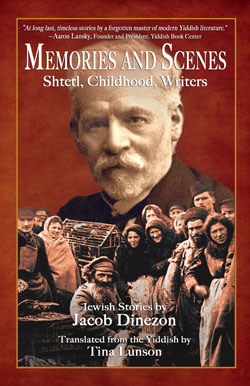 Jewish Stories by Jacob Dinezon
Translated from the Yiddish by Tina Lunson
Introduction by Scott Hilton Davis
Published by Jewish Storyteller Press, 2014
Raleigh, North Carolina, U.S.A.
ISBN 978-0-9798156-1-4
"Jacob Dinezon's newly translated masterpiece belongs next to Sholem Aleichem's works." —Jewish Daily Forward
"With Dinezon's Memories and Scenes, we happily encounter a master writer who deserves to be ranked with Sholom Aleichem and I. L. Peretz." —Hadassah Magazine
"Highly recommended." —Association of Jewish Libraries Reviews
"Warm, funny, compassionate, Dinezon is considered the beloved uncle of modern Yiddish literature." —Foreword Reviews
"At long last, timeless stories by a forgotten master of modern Yiddish literature." —Aaron Lansky, Founder, Yiddish Book Center
Memories and Scenes: Shtetl, Childhood, Writers is the first English translation of eleven autobiographical short stories by the 19th century Eastern European Yiddish writer, Jacob Dinezon (1851?-1919). A beloved and successful Jewish novelist who championed Yiddish as a literary language, Dinezon befriended and mentored almost every major literary figure of his day, including the three classic writers of modern Yiddish literature, Sholem Abramovitsh (Mendele Moykher Sforim), Sholem Aleichem, and Isaac Leybush Peretz.
Though Dinezon's place in the development of Yiddish literature has been neglected over time, the publication of these stories sets him firmly in the ranks of his fellow Yiddish writers and finally makes this collection available to current and future generations. Through poignantly drawn characters and keen observations, Dinezon offers a firsthand look into 19th century shtetl life and provides a treasure trove of Yiddish history, culture, and values.
About the Author
Jacob Dinezon, like Charles Dickens, championed the poor and oppressed, especially children. Called the first sentimental writer of modern Yiddish literature by literary scholars, Dinezon used his pen to expose the hypocrisy and injustice in shtetl society, and his stories reveal a deep love and commitment to uplifting and enlightening the Jewish people. In this collection of never-before translated stories, Dinezon recalls his childhood years in the shtetl, the colorful characters he encountered along the way, and the events that ignited his passion for writing.
Learn more about Jacob Dinezon at www.jacobdinezon.com
About the Translator
Tina Lunson is the former administrative director and senior consultant to the Vilnius Program in Yiddish Language and Literature at Vilnius University in Lithuania. She worked with the U.S. Holocaust Memorial Museum as an expert consultant, researcher, and translator, and served as historical consultant and on-site guide for two Holocaust-era films in Lithuania. Lunson received her Master of Arts in Jewish History from Baltimore Hebrew University and has completed post-graduate work at Columbia University in Yiddish Literature. Her English translations of Yiddish works include novels, Holocaust memorial books, and commissioned translations of manuscripts, personal correspondence, and diaries.
About the Editor
Scott Hilton Davis is a storyteller, playwright, and collector of Russian and Eastern European Jewish short stories from the late nineteenth and early twentieth centuries. Convinced of the historical, cultural, and ethical significance of stories by Sholem Abramovitsh, Sholem Alei­chem, I. L. Peretz, and the lesser-known writer, Jacob Dinezon, Scott now uses storytelling and playwriting to bring works by these beloved Jewish writers to new audiences. His first collection of retold tales, Souls Are Flying! A Celebration of Jewish Stories, was published in 2007. Scott is a former public television executive with more than thirty-five years of experience writing, producing, and directing documentaries and dramas. He lives in Raleigh, North Carolina.
Jewish Storyteller Press was founded in 2007 to bring literary works of 19th century Jewish writers to 21st century readers.
Order your copy here.