"A gripping tale with a realistic adolescent love story, a complicated plot, and an unexpected ending." —⁠Association of Jewish Libraries Reviews
"A sweet, ageless romance . . . that has stood the test of time. . . . Peppler's translation is lively, capturing the spirit of Dinezon's fable. Beautiful, lyrical sentences tease the imagination, painting a vivid picture of the two lovers." —⁠Foreword Reviews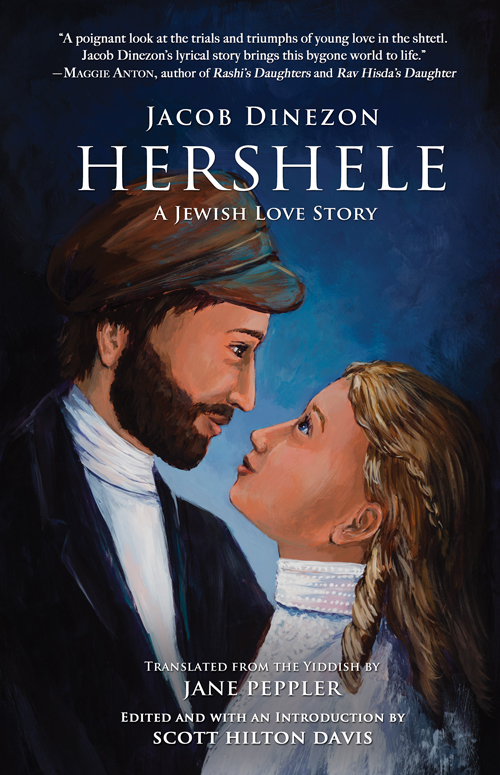 Published by Jewish Storyteller Press, 2016
Raleigh, North Carolina, U.S.A.
ISBN 978-0-9798156-7-6
$15.95
"A poignant look at the trials and triumphs of young love in the shtetl. Jacob Dinezon's lyrical story brings this bygone world to life." —⁠Maggie Anton, author of Rashi's Daughters and Rav Hisda's Daughter
When Hershele, a poor but brilliant yeshiva student, is invited for a weekly charity meal by a rich widow, he comes face-to-face with Mirele, the widow's pretty, bright, and strong-willed daughter. As the two innocently come to know each other, they fall in love.
Are they bashert—soul mates destined to be together? Or will rigid class differences, shtetl politics, and a ruthless marriage broker tear them apart?
This poignant love story, written in 1891, provides a vivid and insightful exploration of our great-grandparents' lives in 19th century Eastern Europe: how they lived, how they loved, and how they tried to remain faithful to their Jewish way of life in the face of modern ideas and a changing world.
Read Reviews
About the Author
Jacob Dinezon (1851-1919) was a beloved and successful 19th-century Jewish novelist who wrote poignant stories about Eastern European urban and shtetl life. Called the "Father of the Jewish Realistic Romance," Dinezon focused on the emotional conflicts affecting young people as the modern ideas of the Jewish Enlightenment challenged traditional religious practices and social norms. Frequently, the plight of his characters brought tears to the eyes of his devoted readers.
Learn more about Jacob Dinezon at www.jacobdinezon.com
About the Translator
Jane Peppler is an award-winning singer and musician, musical historian, and Yiddish translator. In addition to translating Yiddish stories by Sholem Aleichem, Isaac Meyer Dik, and Mendele Moykher Sforim, Peppler has completed three English translations of novels by Jacob Dinezon: Hershele: A Jewish Love Story, Yosele: A Story from Jewish Life, and Alter. Jane has also published Yiddish Songs from Warsaw 1929-1934: The Itsik Zhelonek Collection, and has produced and performed on several albums of Yiddish music, including "I Can't Complain (But Sometimes I Still Do)," "Cabaret Warsaw: Yiddish and Polish Hits of the 1920s-1930s," and the three-volume set, "Yiddish Songs from Warsaw."
About the Editor
Scott Hilton Davis is a lifelong storyteller, author, filmmaker, and collector of Eastern European Jewish short stories from the late 19th and early 20th centuries. Scott is the author of Souls Are Flying! A Celebration of Jewish Stories and Chanukah Tales from Oykvetchnik. His current passion is to recover the works of the once-beloved 19th century Yiddish writer Jacob Dinezon and bring them to 21st-century English speaking readers.
Hershele: A Jewish Love Story is available in paperback and Kindle ebook. Buy online or special order from your favorite bookstore.