"Jacob Dinezon's newly translated masterpiece belongs next to Sholem Aleichem's works."

—Jewish Daily Forward
"With Dinezon's Memories and Scenes, we happily encounter a master writer
who deserves to be ranked with Sholem Aleichem and I. L. Peretz."

—Hadassah Magazine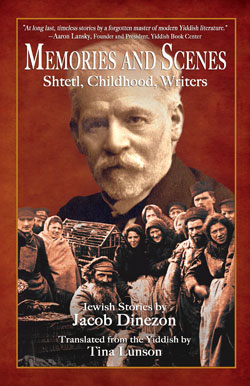 Jacob Dinezon was one of the most successful Yiddish writers of the 19th century. His poignant and powerful tales about Eastern European Jewish life challenged the harsh traditions of shtetl society, introduced modern ideas, and expressed the heart and soul of the Jewish people.
Dinezon also befriended and mentored almost every major Jewish literary figure of his day, including the three classic writers of modern Yiddish literature, Mendele Moykher Sforim, Sholem Aleichem, and I. L. Peretz. Yet with the demise of Yiddish following the Holocaust, Dinezon's important role in Jewish literature was all but forgotten.
Until sixty years later, when Jacob Dinezon was rediscovered by author and storyteller Scott Davis. Scott's journey to uncover the facts about Dinezon's life and career, and his efforts to have Dinezon's Memories and Scenes: Shtetl, Childhood translated and published in English, is filled with all the twists and turns of a good movie. A movie with a very happy ending! (Learn more about the book here.)
"We ALL agreed how wonderful your discussion was at the December bagel breakfast. We really enjoyed your talk and your ability to keep the audience so interested."

—Susan Ivory,
Chairwoman, Adult Education Committee, Temple Beth David
Bookstore Talk
JCC Speaker's Luncheon
Synagogue Book Club
"Storyteller Scott Davis is a huge favorite with our JCC audiences. He infuses his tales from the Old Country with warmth and drama in an utterly delightful way."

—Maxine Ershler Carr,
Adult Programs Coordinator, Raleigh-Cary JCC
Scott Hilton Davis is a life-long storyteller with a thirty-five-year career as a producer of documentaries and dramas for public television. His many awards include seven Emmys.
In 2007, Scott founded Jewish Storyteller Press to bring the works of 19th-century Jewish writers to 21st-century readers. He is the author of Chanukah Tales from Oykvetchnik, and Souls Are Flying! A Celebration of Jewish Stories His current passion is to recover the works of Jacob Dinezon and make them available to a new generation of readers.
Scott's talk about his discovery of the forgotten Yiddish writer Jacob Dinezon is perfect for book events, book clubs, Sisterhood luncheons, adult education programs, and cultural clubs.
For more information or to schedule Scott for your event, please fill out our contact form here.
"Scott Davis is shedding new light on a rare forgotten literary gem. His discovery, the Yiddish master writer Jacob Dinezon, was known for his warmth and humanity and his ability to move and enlighten readers. Scott shares these same strengths, and his well-deserved love for his subject is evident and inspiring."

—Miri Koral,
Founder and CEO, California Institute for Yiddish Culture and Language